RF Indemnity Shield™
In 2013, AM Best, a leading insurance rating agency, described RF radiation as an emerging technology risk, for the insurance industry. They estimated 250,000 workers a year who perform their duties near high-energy cell phone antennas are exposed to RF radiation and the continued exponential growth of the industry will significantly increase exposure to these workers and others.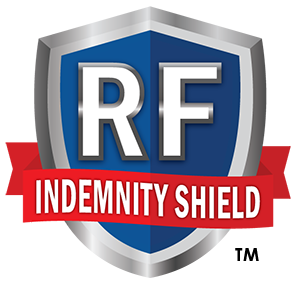 As a result, global insurers withdrew coverage for RF related injuries, leaving property owners, carriers, contractors, and municipalities unprotected from multiple-district litigation. To address this emerging insurance crisis, RF CHECK leadership and their technologists developed applications and protocols that guarantee workers may perform their tasks safely around RF transmitting antennas. After this technological development, RF CHECK collaborated with a Lloyd's of London syndicate and a global insurer to provide RF radiation liability coverage for those entities that follow the RF CHECK safety protocol. The result of this collaboration is RF Indemnity Shield™—the only RF safety insurance product of its kind in the world.  
RF Indemnity Shield™ financially safeguards all parties in the wireless ecosystem. Policies cover claims and legal costs related to RF injuries for every wireless site and stakeholder utilizing the RF CHECK safety solution. This will ensure the healthy growth of the wireless ecosystem.
RF Indemnity Shield™ is a 21st-century solution to a 21st-century problem and is provided at no cost to all wireless ecosystem participants who adhere to the RF CHECK safety protocol.
American workers and their families support
the RF CHECK solution.